The senior Weims you see here are available for adoption. We share all of the information we have on the dogs, but it is common to have no background as the seniors come to us as strays or owner-surrenders to shelters where little data is gathered. We will tell you what we know and have discovered during their time with us.
If you have unanswered questions about a particular senior, please let us know. See our Contact Us page for methods.






Weimaraner
Up-to-date with routine shots
Spayed/Neutered
Meet Lucy. Nine years of Weimaraner experience. Weight Watcher's drop-out. Formerly avoided doctors, but has committed to a healthy lifestyle going forward. Likes her own space, peace and quiet and needs to be an only dog. Currently in Ohio, but her bags are packed and she's ready for her next chapter in life. Transport available within a two-day drive of OH. Sweet girl just needs a chance with the right people. Are you her people? To apply to adopt Lucy, please contact Senior Moments Weimaraners.
Senior, Female, Not known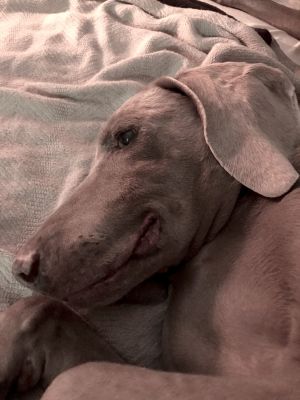 Weimaraner
Spayed/Neutered
Up-to-date with routine shots
Spayed/Neutered
Hi , I'm Mia. I used to live outside in a pen and had a plastic barrel to sleep in. My owner wanted to get a new puppy and had to get rid of one of their dogs so they wouldn't have too many. I was the lucky one and got the heck out of there! I hadn't seen a vet in a long time and I have something called heart worms. They have damaged my heart and lungs, but I am still full of energy and have no outward symptoms. I don't act my age which is 10-11 years they think. I am houstrained, crate trained and get along with other dogs. No idea about what I'd think of a kitty. I need to be very quiet because of the heart worms, so even though I want to play, I can't. If you have other dogs, they need to be the calm, quiet type. The humans who know me say I'm very sweet. I am at a foster home in Houston, TX right now and going through treatment to kill the heart worms. If you'd like to meet me when I'm rid of these worms, please let Senior Moments Weims know. Thank you for caring! XOXO Mia
Senior, Female, Medium