The senior Weims you see here are available for adoption. We share all of the information we have on the dogs, but it is common to have no background as the seniors come to us as strays or owner-surrenders to shelters where little data is gathered. We will tell you what we know and have discovered during their time with us.
If you have unanswered questions about a particular senior, please let us know. See our Contact Us page for methods.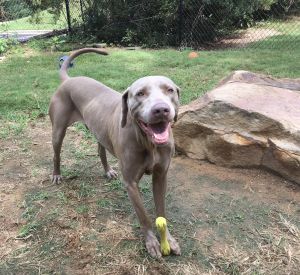 Weimaraner
Spayed/Neutered
Up-to-date with routine shots
Go BIG or go home! That's Trace's motto. We think he may be a Weim x Great Dane mix. He's a BIG 117# boy who loves to do the Dane "lean". He also likes to put his front feet on your shoulders. He is not a jumper though and is quite gentle. He was pushed out of a truck in rural Alabama with another dog and we were told he was a senior. Well, he's not. He's more like six years old. SUPER sweet. Loves to play with toys. Good with dogs, but can be overwhelming for calm, quiet dogs. We have no idea how he will be with cats or other small critters. Trace is currently at a great boarding/daycare facility in Alabama. He'd really rather be in a home, and we're helping make that happen. He's not a senior, but he's a great dog. Healthy and playful and loving. Not great on a leash and very strong. If you'd like to add a whole bunch of Weim love to your life, let's get the ball rolling as they say! He's in Birmingham, AL and we can move him up to a two-day drive away to the right home.
Adult, Male, Not known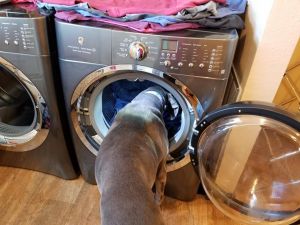 Weimaraner
Spayed/Neutered
Up-to-date with routine shots
Stormy lived all of his 12 years outdoors in a pen with a rickety shed. It was very cold in the winter and hot in the summer. All he had for a toy was a two-pound chunk of concrete – he carried it all the time and it eventually ground ALL of his teeth down to the gums. Now, he's got the hang of living indoors. Milestones include jumping on the couch with his favorite stuffed squirrel toy and investigating the dryer. He loves soft toys, soft beds and human attention. He's got a lot of years of neglect to make up for! He has learned to use the dog door and takes his squirrel out with him. When he comes in, he thinks he can't do it with the squirrel. So, he drops the squirrel, goes through the door, pokes his head back outside and grabs his squirrel! His long-suppressed inner Weim is definitely coming out. The vet says he's in pretty good shape all things considered. A big, basically healthy, beautiful boy. (We all already knew that last one!) Stormy would love a home where he could be the only dog and have a dog door into a fenced yard. Could that be your house?
Senior, Male, Large