The senior Weims you see here are available for adoption. We share all of the information we have on the dogs, but it is common to have no background as the seniors come to us as strays or owner-surrenders to shelters where little data is gathered. We will tell you what we know and have discovered during their time with us.
If you have unanswered questions about a particular senior, please let us know. See our Contact Us page for methods.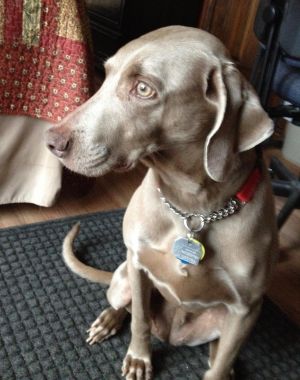 Weimaraner
Up-to-date with routine shots
Spayed/Neutered
Bridgette is an 11 y/o long-tailed sweetie who just LOVES people. Before coming to rescue, she lived her whole life in a pen with a dog house. She has had no trouble settling right into a home, couch, bed, the whole she-bang. She is crate trained and REALLY likes her crate. She is healthy and ready for her next adventure. She has a prey drive, so her new home should not have cats or small animals. She wants to be the center of attention – now that she knows what that is. She is in a multi-dog foster home now, but would be much happier as an only dog. She is not afraid to assert herself to get attention ahead of other dogs. Bridgette is being fostered in Oklahoma and is willing to move. We will arrange transport within a two-day drive for the right home. To apply for adoption, please go here: http://senior-moments-weimaraners.com/who-we-are/adoption-information/
Adult, Female, Large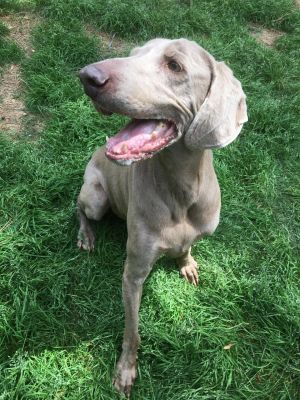 Weimaraner
Up-to-date with routine shots
Spayed/Neutered
Meet Sadie, a 10 y/o girl who was abandoned by her owners in Alabama. She was with a foster home associated with the shelter for awhile so we know she is fine with other dogs and people. She has a lot of energy for her age and we do not know how she is with cats. Sadie is up-to-date on vaccines, spayed and microchipped. Sadie is currently at a wonderful boarding and dog daycare facility in Birmingham, AL but would love to move into a house. Is there room in yours? If so, click here to start the adoption process: http://senior-moments-weimaraners.com/…/adoption-informati…/ We will arrange her transport to you if you live within a two-day drive of AL.
Senior, Female, Large