The senior Weims you see here are available for adoption. We share all of the information we have on the dogs, but it is common to have no background as the seniors come to us as strays or owner-surrenders to shelters where little data is gathered. We will tell you what we know and have discovered during their time with us.
If you have unanswered questions about a particular senior, please let us know. See our Contact Us page for methods.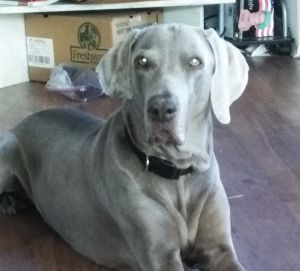 Weimaraner
Spayed/Neutered
Up-to-date with routine shots
Zeppelin is about 11-12 years old and 75#. He has lived with a Yorkie and Pit Bull, cats and a parrot. He free-roams (no crate) when his owners are not home. He does not like toys, but does love walks and going to the dog park. He also loved to run loose on the beach with his owner. He will bark when he sees someone outside, so he should not live in an apartment or place where that will bother close neighbors. Zeppelin will do best with experienced Weim owners. He has a typical strong Weim personality. He's used to a male owner, but likes women just fine. We have no idea how he would be with children. He is a sweet boy who needs regular exercise and love (don't we all?). He is currently in Alabama, but our volunteers can transport him within a day's drive. Please contact us at adoption@seniormomentsweims.com if you would like to get to know him better.
Senior, Male, Large